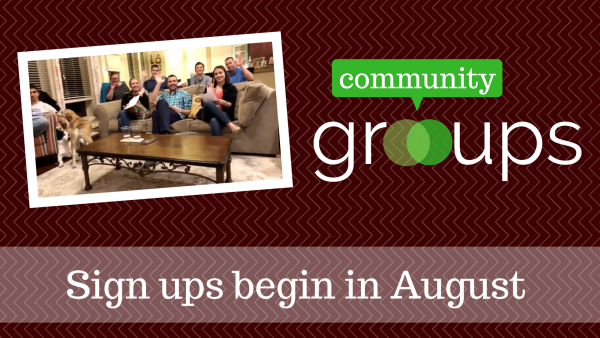 What is a Community Group?
A small group designed for people to pursue and experience healthy relationships and spiritual growth
When and Where do they meeting?
Groups meet in homes one night of the week, usually for 1.5 – 2 hours.
Who should join a Community Group?
We believe life is best when grown in community. Whether you're a long time Christian, a brand new follower, or even a skeptic wanting to know more, these groups are a great place people to find authentic community and spiritual growth.
How do I join a Community Group?
We have two primary times each year to join a group. Fall sign ups are in August. Spring sign ups are in January and February.
Hear more about community groups:
What was most meaningful?
What was the biggest hurdle to joining your group?
How has this shaped your sense of community here?
What would you say to someone considering joining a community group?
Hear from two of our young adults on these same questions.
Want more info?
For more information about Community Groups, contact Mark at