Connecting Hearts Update
KATY FIRST is making a significant difference in the life of our community. Since the kickoff of the Connecting Heart Campaign our community experienced and the church served thousands of people during Hurricane Harvey Recovery. We've continued growing with our community welcoming 38 new members,
11 children baptized, 10 youth confirmed in 2019 and provided many programs and ministries like Little People's School and Musical Monday Funday.
We celebrate that KATY FIRST ministry and outreach has grown.
The Connecting Hearts Campaign was the final phase of the development of the Connection Center which is the space that we enjoy just outside our sanctuary doors. It is a place where we can connect with others and share the Gospel of Jesus Christ.
The main goal of the Campaign was to retire the Connection Center debt and make needed improvements to our church campus. In 2016, the Church Council established a capital fund-raising goal of $1.1 million to eliminate remaining Connection Center debt of $793,500 and provide $300,000 for improvements to the Family Life Center and Education Building. We are proud to report that we have paid off the debt! Thanks be to God!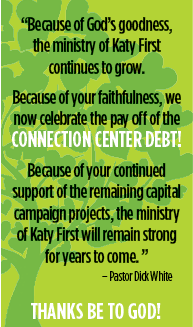 Improvement projects funded to date by the Connecting Hearts Campaign Family Life Center Lighting & Sound System Upgrades
Education Building LED Lighting & Drop Ceiling Upgrades
Fellowship Hall Paint and Carpet.
Connecting Hearts Q & A
Should I continue to give even though the debt is now retired?
Yes, our pledged commitments were $114,000 short of our original campaign goal. Some projects that were part of the Connecting Hearts campaign have not been fully funded. We still need to update our campus Master Site Plan and replace energy inefficient windows in Education Building. While the Connecting Hearts campaign runs through 2019 the list of needed improvements continues to grow.
Who determines which projects will be completed?
Our Board of Trustees faithfully care for the church's buildings and property making decisions in conjunction with the Finance team, choosing projects based on need and the available funds.
Are there other needs for other "capital funds"?
Yes, our facility is organic, always changing to meet needs of new ministries where God is leading us. A little over a year and half ago, we added the Confluence worship service that is been successfully attracting younger families and single adults. God is calling us into a new future of serving our Katy Community. A list of additional needs can listed here.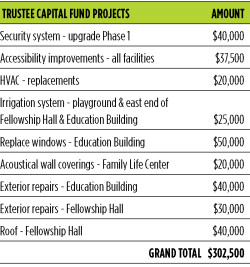 Why should I continue to give above and beyond my annual giving?
Your contribution to the capital campaign should not diminish your giving to the annual operating budget. Both are important. Every gift to the capital campaign provides additional funds for our growing list of facility improvements.
Can I make a gift to a specific project?
Yes, contact our Pastors or Billy Cooke, Finance Chair. Below is our updated list of much needed projects, the list is in priority order. Your continued support of the Connecting Hearts Capital Campaign will help God continue use this place for ministry in Katy.
Important Documents for the 2016 Capital Campaign: