Out On a Limb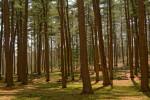 When I was a freshman in college, I felt very far from God. I had gone almost 7 months without going to church, without having any Christian friends, and without being a part of a ministry group, which was far from my Christian upbringing. I felt like I had forgotten about my relationship with God, or worse, that He had forgotten about me. Even though I was completely unaware of how lonely I was at the time, I knew something important was missing in my life. And the longer I went without God, the farther I got away from Him with my words and actions. Then one day a friend in my math class invited me to her Bible study.

​I showed up to the study, weary of what would be said and fearful of feeling like an outsider. The speaker, Josh, set up an insane situation where he had us imagine being on a plane that was going down. He said, "You only have 1 more minute of life before the plane crashes. You are thinking about your life. Do you believe you are going to heaven?" And he went a step further: "If you think that you would go to heaven, raise your hand." Wow, this was not a good week to decide to come to this Bible study.

Since this was basically a room of believers, everyone in the room raised their hand. Except for me. I felt like I wasn't worthy of going to heaven since I had ignored God for so long. At that moment, envelopes containing a single piece of paper were handed out to each person. I heard a collective grumble as everyone else opened their envelopes, so I held back on opening mine. Every person's envelope said the word "Hell." Josh said this was not real, just a means of humbling us and a conversation starter. However, Josh looked confused and asked, "Wait… who got the one different envelope?" I read my piece of paper and it said "Heaven." I was the one person not to raise my hand and yet the one person whose paper said Heaven. I have never felt God speak to me more clearly than in that moment. He went out of his way to find the person furthest from Him and said, "I want you, and there's nothing you can do about it."

I think this is a lot like the story of Zacchaeus. He was an outcast because of his profession: tax collector. He was infamous for being a crook and stealing people's money. However, the Gospel of Luke describes Zacchaeus as being curious about Jesus. He went to town where Jesus was passing by, and when he couldn't get past the crowd, he climbed up a tree and literally went out on a limb for Jesus, just like me going out on a limb and showing up for the Bible study. And it paid off for Zacchaeus as well: Jesus looked directly at Zacchaeus, invited him to come down, and asked Zacchaeus to dine with him that evening. In return, Zacchaeus repented and repaid all the money he had stolen!
Luke 19:10 declares: "For the son of man came to seek and save the lost." The Bible doesn't say seek and save the perfect. And I think that's all of us out there. None of us has it all together—we all equally need Jesus today. Let's all go out on a limb for Jesus; you might just be surprised to see how He shows up.