Recognizing Sacrifice With a Promise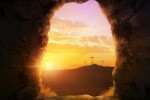 Promises are fragile things. They are ephemeral ties that bind us, encouraging us to do exactly as our words have dictated. Inevitably, whether by choice or situation, those promises are sometimes broken. How many times have we in our day to day lives forgotten to live up to our word? I know I have made promises to those I love that I have unintentionally broken. It happens. We are human. Our words have so much meaning, but often, it is the actions that prove to mean the most.

This time of year always makes me think about why our promises matter. The Easter story, which tells of Jesus's death and resurrection, is both a story of sacrifice and promise. Jesus's sacrifice on the cross embodied God's covenant as a man with all people. A promise of life after death. Of the opportunity for us to redeem ourselves. Who hasn't needed that? A second chance, an opportunity for compassion. I can say, easily, that I require that almost every day.

When I think about my relationship with my faith at this time of year, I try to focus on how I can honor such a sacrifice. What can I do that would make such an act of love seem worthy? And this year my thoughts have turned to the people surrounding my life that need an equal measure of forgiveness and love. Because we try, as human beings, to give each other compassion and understanding, right? We need it so often ourselves, isn't it fair to offer it in equal measure?

But so often we don't always succeed.

That guy cut me off!
This person is totally weird, they are so different from me.
I don't agree with that point of view at all, they are wrong!
They have such different political views, they must be crazy!

I have seen it in my life. I have seen it in my social media feeds. I have witnessed this as I have grown up. Contention and anger because we are different. And here at last I am finally beginning to understand why this time of year is so crucial to christianity.

"Go and make disciples of all nations, baptizing them in the name of the Father, and of the Son, and of the Holy Spirit, and teaching them to obey everything I have commanded you. And surely I am with you, always, to the very end of the age." (Matthew 28:18-20.)

It is a reminder that Jesus died for all people. For those who believe and those who do not. For every last soul on Earth. And if he can make such an all encompassing promise, how can we not offer one another the gift of compassion? Recognizing our strengths and our differences with tolerance and with love? To all nations and all peoples Jesus made this promise. So perhaps, with this reminder, we can make a promise to try to offer love instead of hate. Understanding, not anger. Forgiveness. And in doing so, perhaps become an embodiment of the Easter lesson that was taught to us with such sacrifice.