Trained Up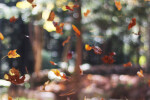 ​I recently achieved a very big milestone in any teenager's life: I turned 18. This landmark can mean many things to different people — getting a job, moving out of the house, even buying their first lottery ticket. For me, however, my eighteenth birthday meant something else — it was a chance to reflect on everything that my parents have done for me up to this point and how much more they will do for me in my lifetime.

Although it is a parental obligation to take care of their children, not all parents do that. I am grateful that I was born into a family and to parents that love me and my sister with every fiber of their being and constantly strive to take care of us in whatever capacity they can. Besides God's grace of forgiving me, my parents' generosity in raising me and pouring their passion into me is the greatest gift of generosity that I will never be able to repay.

As I reflect back on the relatively short life I have had so far, I am, in every sense of the phrase, blown away by the generosity that my parents have shown me. Until I become a parent myself, I will never truly understand all of the sacrifices my parents have made to raise me and take care of me all these years. I am fortunate that I did not get kicked out of the house on my eighteenth birthday and told, "Good luck, I hope you figure it out!" like so many individuals are forced to do. Although I don't always show it, because I am a teenager after all, my greatest feeling of gratitude is for my parents and the boundless gift of generosity they have shown in putting forth the effort of raising me.

​Proverbs 22:6 says: "Train children in the way they should go; when they grow old, they won't depart from it." I believe that my parents strive to do this every day with me, and for that I am eternally grateful.