Trying On Shoes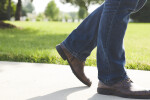 Recently I've been struggling with how to better relate to someone I don't like. Seeing this person only occasionally, I've been able to deceive myself about the state of our relationship for some time and avoid owning up to my feelings. But as our paths have started intersecting more and more, I've slowly awakened to the depth of this struggle.

For a few weeks now I've been praying about this particular relationship. I was in conflict with myself, uncertain how to reconcile my feelings of uneasiness around this person with the call placed on me as a Christian to love my neighbor as myself. I somehow convinced myself that the uneasiness I feel around this person was only known to me, that it had no real bearing on how I treated this person. I was comfortably convicted, thinking recognition and prayers would be enough. But then I found out this person had questioned some of my actions that were the result of my uneasiness.

I'd like to say that I immediately saw the error of my ways and mended fences, but unfortunately nothing could be further from the truth. I was ashamed. Ashamed for having been found out. Ashamed for failing to live out my beliefs. With the shame came the painful realization that I couldn't keep brushing this off: I had to figure out how to love someone I cannot stand to be around.

How? That's the question plaguing me. I've had some intellectual answers, none of which sparked a change. Then last week I dropped in a Sunday school class. The thought-provoking question of the lesson was, What does love require of me? I was practically dumbstruck, the topic was so timely for me. The pastor giving the lesson said, "You will change someone by hurting them deeply or loving them profoundly." Wow.

As someone who's been hurt deeply, this message hit home. It changed how I'd been approaching this struggle and turned it into a matter of the heart rather than the head. I saw how I'd unintentionally reduced this person down to their actions and was disregarding their humanity. I got to thinking about this person's story, so much of which I do not know. My heart began to soften towards this person as I imagined myself walking through some of the challenges they've faced, wondering what I would have done if it had been me.

What I'm learning through this is that oftentimes relational problems cannot be solved with the head. Attempting to do so may help me in some small way, but it likely won't change the relationship much because the other person is left out of the process. If I want to be someone who loves profoundly, putting myself in the other person's shoes is a good place to start.