Katy First YOUTH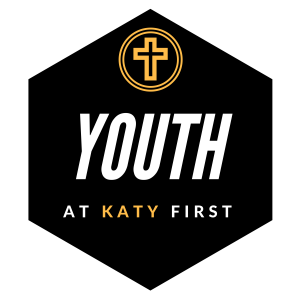 Welcome to Katy First United Methodist Church - Where Families are Equipped and Empowered as Joyful Disciples of Jesus Christ!
Our Mission:
At Katy First United Methodist Church, we are dedicated to nurturing and strengthening families as they grow in their faith and relationship with Jesus Christ. We believe that every stage of life is an opportunity to deepen one's connection to God, and we've tailored our programs to meet the unique needs of children, youth, and families.
Children: Hear & Play
For our littlest members, we offer a warm and welcoming environment where they can hear stories from the Bible and engage in playful activities that help them understand the love of Jesus. We believe that building a strong foundation of faith at a young age sets the stage for a lifelong relationship with Christ.
Youth: Ask & Try
Our youth program encourages teens to ask questions, explore their faith, and try new experiences. We provide a supportive community where they can grow spiritually, emotionally, and socially. Through discussions, outings, and retreats, we empower them to live out their faith in a world full of challenges.
Families: Celebrate & Explore
We believe that families are the cornerstone of a strong faith community. We offer numerous opportunities for families to come together, celebrate their faith, and explore God's word. From Family Fun Days to special events like Christmas in the Patch and the Celebration Singers Coffee House, there's something for everyone to enjoy.
Upcoming Key Dates
September 24 - 125th Celebration: Join us as we celebrate a century and a quarter of faith, community, and love. It's a milestone you won't want to miss!
October 7 - Coen Conference with Meredith Miller: An insightful conference that promises to enrich your spiritual journey.
October 15 - Mega Youth Group Kickball Tournament: A fun-filled day of friendly competition for our youth.
October 28 - Family Night in the Pumpkin Patch: Get ready for an evening of pumpkin picking, games, and family fun.
November 3-5 - Journey (6th Grade Retreat):A retreat designed specifically for our 6th graders to deepen their faith and bond with their peers.
December 3 - Christmas in the Patch: Experience the magic of Christmas with your family in our beautifully decorated patch.
December 10 - Celebration Singers Coffee House: An evening of music, coffee, and fellowship that warms the soul.
December 17 - Youth Christmas Lock-in: A night of festive activities and spiritual reflection.
January 7 - Confirmation Starts: A significant step in your child's faith journey.
February 16-19 - Ignite Retreat: A retreat to ignite the passion for Christ in our youth.
March 3 - Mega Youth Group: An event where youth can come together, share, and grow.
March 24-30 - Holy Week: Join us as we observe the significance of Holy Week through various activities and services.
March 31 - Easter: Celebrate the resurrection of Jesus with us.
April 7 - Confirmation Sunday: A day to celebrate the confirmation of our youth.
May 5 - Graduation Sunday: A special recognition of our graduates and their achievements.
We invite you and your family to be part of our vibrant and loving community here at Katy First United Methodist Church. Together, we'll equip and empower families as joyful disciples of Jesus Christ. We can't wait to see you at our upcoming events!
YOUTH GROUP
During the school year, Katy First Youth meets on Sunday nights at 5:30 PM in the Family Life Center. Our aim to help students grow in their discipleship and build meaningful friendships. We do not meet on Sundays if there is no school the following Monday.
SUNDAY SCHOOL
Youth Sunday school meets from 9:45-10:45 in the youth room of our Family Life Center.
Confirmation
Each year our 8th graders and above are invited to be a part of Confirmation. Confirmation is a time when youth move from the faith they inherited to ownership of their own faith. They will learn the basics of our faith, Methodist tradition, and meaning of membership in a church. At the end, they will be "confirmed" as full members of the church and make their professions of faith. We begin confirmation in the Spring of each year and conclude the Sunday after Easter. If you have questions about Confirmation, please contact the church.